OPEC and OPEC+ were to hold virtual meeting on Monday, but have postponed it until April 8 or 9. This follows indications by President Trump about a potential agreement between the Saudis and Russia to cut production by 10 to 15 million b/d. News that OPEC+ is postponing its meeting has overnight oil prices trading up over $2.00 per barrel. On Friday NYMEX prices closed up $3.02 at $28.34 and Brent was up $4.17 to $34.11. This followed gains of $5.01 and $5.20 respectively on Thursday.

OPEC has invited U.S. representatives to attend the meeting.

Import Tariff

On Several occasions, President Trump has threatened to impose an import tariff on crude oil. Unfortunately, there are several risks involved in an import tariff. We use February data before the impact of COVID-19 on U.S. markets to illustrate the problems and assume the tariff is $20 per barrel.

The tariff would presumably raise the price of domestic crude to $20 per barrel above the world market as the U.S. imports 6.41 million b/d. The U.S. also exported 3.25 million b/d. The imported crude is heavier that the light sweet crude produced in the shale basins. The imports of heavy crude are necessary to match the refineries which cannot efficiently refine the very light crude. Of the crude produced in the U.S.about a fourth is exported. Producers exporting crude would receive world prices for that oil or $20 per barrel less than if they sold it to a U.S. refiner. Producers would be competing to sell their oil to domestic refiners because it receives a higher price because of the tariffs. That means that the domestic market would be oversupplied by 25% and despite the $20 tariff they would be selling at something below the world market plus $20 per barrel.

Even if the oil sold for world price plus $20 the product export market of 3.31 million b/d would almost go to zero. U.S. refiners paying $20 extra for their oil would have to sell the products at $0.48 per gallon above the world market prices just to recover the higher cost of crude. Conceivably, in addition to the tariff the government could subsidize exports by $0.48 per gallon

This could address part of the problem but there would still be too much light crude. A refiner using light crude has more difficulty producing diesel which has not suffered as large a drop in consumption as jet fuel and gasoline. Many Gulf Coast refiners need the heavier imported crude.

Furthermore, the imposition of a tariff would set a dangerous precedent. Later presidents with a desire for green energy could impose tariffs on oil to boost the cost of petroelum products to shift energy consumption toward renewable energy.

A crude tariff is fraught with problems.

A better solution would be for the Texas Railroad Commission and other members of the Interstate Oil and Gas Compact Commission to reintroduce proration which limits the production of individual wells to a percentage of its capacity. This lends a bit of support to OPEC and can reduce or eliminate the heavy discounts of crude at the wellhead to WTI at Cushing. Last week WTI at Midland and the Bakken composite price averaged about $6.00 per barrel less that WTI at Cushing. The steep discounts are due to lower demand and storage tanks filling up.

Intervention by the Railroad Commission and its counterparts in North Dakota, New Mexico, Oklahoma and Colorado. This seems to be the best solution in the short term. Furthermore, it will reduce or eliminate the discounts to the Cushing price. It has the additional advantage of being able to adjust production on a monthly basis. Another advantage of proration is that it does not result in wells being shut-in, which can result in reservoir damage.

A cut in U.S. production will also encourage Saudi Arabia and Russia to come to an agreement.

Conclusion

Even if the Russians and Saudis come to an agreement this week the cut will not be adequate to balance the market in the short term. The best option for the U.S. is to reinstate proration to eliminate the heavy discounts to WTI if nothing else.

News
NYMEX Prices for April 3, 2020
| | | |
| --- | --- | --- |
| NYMEX Light Sweet Crude | +3.02 | $28.34 |
| ICE Brent | +4.17 | $34.11 |
| RBOB Gasoline NY Harbor | +0.0288 | $0.6916 |
| Heating Oil NY Harbor | +0.0755 | $1.0706 |
| NYMEX Natural Gas | +0.069 | $1.621 |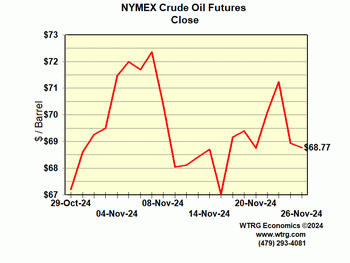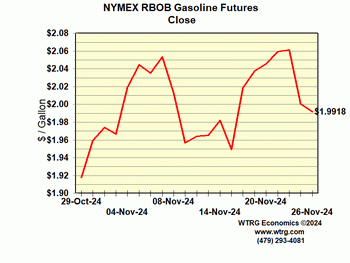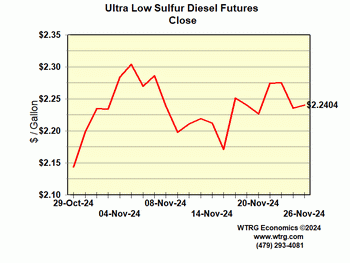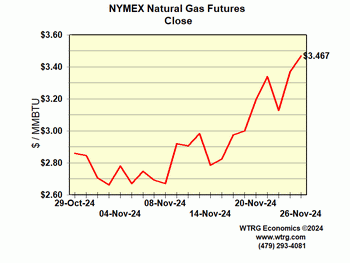 Oil & Products (million b/d) February, 2020

Crude Oil



Production
12.744
Imports
6.408
Exports
3.251
Net Imports
3.157
Refinery Input
16.231
Products



Production*
19.286
Imports
808
Exports
3.311
Net Imports
-2.503
Product Supplied
16.449
*Liquids production includes natural gas liquid inputs to refineries and renewables