Natural Gas

LNG

The April data are showing more imports of natural gas in the form of LNG. However, until we have a few more months of data the impact on domestic prices will remain uncertain. In April according to the latest EIA numbers LNG imports averaged $4.20 / mcf down $2.14 from March. In contrast the average wellhead price of natural gas only dropped $0.29 from $3.72 to $3.42. The benchmark gas at the Henry Hub was down $0.44 to $3.40 / MCF ($3.50 / mmbtu). Gas imported from Egypt, Nigeria and Norway was $3.90, $3.56 and $3.92 respectively. The three countries represented almost two thirds of LNG imports. The remainder came from Trinidad at $4.85 / MCF. Except for Trinidad LNG import prices were competitive with domestic production. prices.

For the month of April LNG imports were up 0.85 Bcf / day to 1.87 Bcf / day. Imports from Egypt, Nigeria and Norway made up 0.73 Bcf / day of the increase and 64% of total imports. We will need several more months of data to be certain, but the April numbers indicate that LNG is available under $4.00 delivered to the U.S. At 1.87 Bcf / day LNG imports are well under the daily sendout capacity of 8.97 Bcf/day for all operable LNG import facilities. As long as LNG is available at these prices and LNG imports are under 7-8 Bcf per day this could put a $4.00 cap on prices. Once imports approach LNG throughput capacity they would no longer cap prices.

Imports by pipeline from Canada were down 0.91 Bcf/day in April wiping out gain from LNG. The 3-year decline in Canadian gas drilling activity leads us to conclude that net imports from Canada will continue on a downward path.



Lower drilling in the U.S. will result in lower production, but there is spare production capacity because of the high drilling rate for the last three years. Several companies have announced that they have throttled back on production and/or delayed putting new wells on stream until prices are more favorable.



The outlook for production from wells drilled this year is not quite as bleak as the drop in gas rig counts indicates. On the right we see horizontal drilling is down from the peak but not by nearly the percentage of overall drilling. Since we can expect 3-5 times the production from a horizontal well, the number of horizontal rigs understates the true impact on production.

It is likely there will be an impact from LNG this summer and we do not expect the lower domestic and Canadian supply to impact prices until the first half of next year and more likely the second quarter. We do have a problem with the futures market's perception of prices and doubt the March price of $5.50 per mmbtu. We think $5.00 will be closer to the mark.

Electricity

Bright spot for demand? While the 12 months ended April show gas demand by the power sector down 1.43 Bcf/day at 17.34, the latest Electric Power Flash report for May indicates that natural gas consumption by the power sector was 17.82 Bcf / day. That is up 1.52 Bcf/day (9.3%) from May, 2008. This may be due to the warmer weather this year causing an increase in demand for peaking power. Cooling degree days for May were 109 vs. 91 a year ago. Total electric power generation was down 4.2% from last year and power generation from coal was off 14.7%.

Storage

Storage levels are well above normal, but not evenly distributed. The East Consuming Region is 118 Bcf (9.1%) higher than average while the Producing Region is up 246 Bcf (31.3%) and the West Consuming Region is 91 Bcf (25.9%) higher than normal. Consumers (utilities) may be reticent to purchase gas too early. they may be waiting for the price to fall even lower. In any case, they have more gas than is normal for this time of year and it is unlikely that demand will be higher this winter.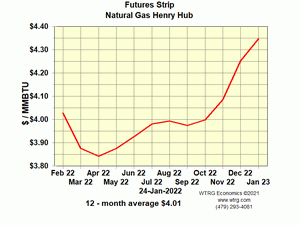 Natural Gas Report

Through Friday natural gas spot prices averaged $3.28 / mmbtu or 31.1% of crude compared to 31.0% the previous week and 48.3% a year ago. For the next few months the gas price will be influenced by the demand for air conditioning, threats of hurricanes, the weak economy and oil prices, if they collapse. The low rig count indicates gas prices may come under upward pressure from lower production capacity late in the year, but more likely sometime next year.

Last week's injection was 90 Bcf and is 3 Bcf greater than the typical 93 Bcf injection to storage at this time of year.

Storage levels are 456 Bcf (18.8%) greater than the five-year average, and 547 Bcf (24.8%) more than last year. At the current crude oil price and storage level gas prices typically range between 45%-65% of the price of crude oil. However, the two markets are not linked at this storage level and the current price of crude has little influence on gas prices.

The 90 Bcf injection for the week of July 10 was 3 Bcf greater than the normal 93 Bcf. For the week of the 10th there were 60 60 cooling degree days which is average and one less than last year. There were 4 heating degree days which is 2 above normal and 2 greater than last year. The North was cooler than normal. (See NOAA temperature anomaly map.)

This week's forecast for 73 cooling degree days is 8 less than normal and last week was 70 which is 6 CDD less than the norm. The 6-10 day forecast is for cooler than normal weather west of the Rocky Mountains. The 8-14 day forecast is for warmer than normal weather in the Northwest, Mid Atlantic and Southeast Regions. Cooler than normal temps are expected in a band from Southern California to the Northeast.

The storage level in the Eastern Consuming Region is 13.3% above our 5-year average, the Producing Region is 39.1% above the norm, and the Western Region is 36.3% above normal.

The Producing Region at 1,032 Bcf is 290 Bcf above last year. Storage in the Eastern Consuming Region at 1,411 is 166 Bcf higher than last year. The Western Region is 118 Bcf higher than last year at 443 Bcf.

Last year, with 574 Bcf less gas in storage, natural gas prices were 48.3% of oil on a Btu basis compared to 31.0% last week and 31.1% this week. This week's average natural gas spot price up $0.002 /MMBtu while oil decreased $0.22 per barrel ($0.038/MMBtu) decreasing the spread between oil and gas prices by $0.040 MMBtu. Natural gas prices averaged $3.28 which is $7.98 lower than last year.


Weekly Average Price

Change


07/17/09
07/10/09
07/18/08
Weekly
Annual
Oil
$61.27
$61.48
$135.34
($0.22)
($74.07)
Gas $/mmbtu
$3.283
$3.281
$11.259
$0.002
($7.976)
Oil $/mmbtu
$10.563
$10.601
$23.334
($0.038)
($12.771)
Gas-Oil
($7.280)
($7.320)
($12.075)
$0.040
$4.795
Gas % Oil
31.1%
31.0%
48.3%
0.1%
-17.2%

The red line in the graph shows the difference between the current storage level and the previous five years. The black line is natural gas price as a percent of oil price on a Btu basis.



While current storage relative to the norm historically determines most of the gas-oil price relationship, weather and rumors of weather can overwhelm the normal storage-price behavior.




Residual fuel oil in New York Harbor at $1.27 per gallon ($8.49/mmbtu) is not competitive with natural gas for most users with fuel switching capability. For the last 4-week period Residual fuel oil use was 628,000 barrels per day compared to 687,000 a year ago.


Storage Data Detail

In the Eastern Consuming region, gas in storage is 9.1% above the 5-year average; the Western Region is 25.9% above normal; and the Producing Region is 31.3% above the 5-year average. The Producing Region is 39.1% above last year's storage level, the Eastern Region is 13.3% above and the West is up 36.3%.

Total storage of 2,886 Bcf is 456 Bcf (18.8%) above the 5-year average and 574 Bcf (24.8%) higher than last year.


Eastern storage at 1,411 Bcf is 118 Bcf (9.1%) above the 5-year average and 166 Bcf (13.3%) above last year. Storage in this region was up 62 Bcf compared to the normal 60 Bcf injection.

There was a 19 Bcf injection to storage in the Producing Region which is equal to the 5-year average. The Producing Region now contains 1,032 Bcf with storage 246 Bcf (31.3%) above the 5-year average and 290 Bcf (39.1%) higher than last year.

Storage of 443 Bcf in the West Consuming Region is 91 Bcf (25.9%) above the 5-year average and 131 Bcf (45.3%) higher than last year. There was a 12 Bcf injection which is equal to the 5-year average.

Prices barely high enough justify the current level of exploration and gas rig count has may not have bottomed as we expected. Gas exploration activity was down 7 this week to 665 and is 869 rigs lower than last year. It is 37 rigs (58.6%) lower than the historic high of 1,606 in the second week of September. Natural gas drilling activity just above the lowest level since early May, 2002. See Gas Rig Count. and Rigs and O&G Revenue .


There are six items that will determine natural gas price this summer: (1) crude oil price* (fuel switching), (2) actual and forecast temperature, (3) the level of U.S. and Canadian drilling activity, and (4) planned and unexpected outages at nuclear power plants, (5) industrial activity, and (6) hurricanes.


* Until storage levels return to normal oil prices will have little influence.

Note: There is insufficient production, import or pipeline capacity to support winter consumption and 2.0 - 2.5 TCF must be added to storage each year before the winter heating season begins.
For the latest Gulf of Mexico statistics are go to:



Click on map for larger image.

Region
Storage
Base
Gas
Working
Capacity
Working
Gas
Spare
%
Working
Gas
Capacity
East
4,894
2,639
2,255
1,411
844
62.6%
West
1,280
609
671
443
228
66.0%
Producing
2,272
999
1,274
1,032
242
81.0%
Lower 48
8,447
4,246
4,200
2,886
1,314
68.7%
NYMEX Prices for July 17, 2009
| | | |
| --- | --- | --- |
| NYMEX Light Sweet Crude | +1.54 | $63.56 |
| ICE Brent | +1.63 | $65.38 |
| RBOB Gasoline NY Harbor | +0.0564 | $1.7135 |
| Heating Oil NY Harbor | +0.0416 | $1.6410 |
| NYMEX Natural Gas | +0.001 | $3.689 |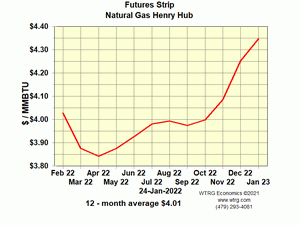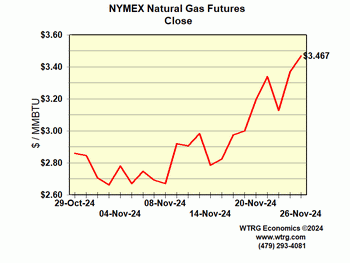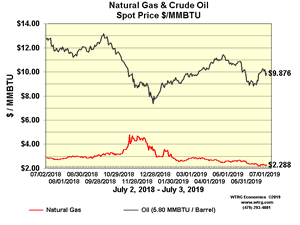 The first two graphs below are the best short term indicators of natural gas prices.

The first shows the relative prices of natural gas and crude oil with oil prices converted to their Btu equivalent. Since oil and natural gas compete directly in some markets, most notably power generation, high crude oil prices put upward pressure on natural gas prices.

The second shows the difference between the current volume of storage and the 5-year average. When the difference is significantly below normal it is an indicator that demand exceeds supply implying higher than "normal" prices.
The red line in the graph below (scaled on the left) shows the difference between the current level of gas in storage and the average of the previous five years. The black line (scaled on the right) is the current natural gas price less the price of crude after it is converted to the Btu equivalent price. The graph below that has natural gas prices as a percent of crude on a Btu basis.